In vitro simulating technology for anticancer action of immune cells, <Lab on a chip> cover paper published
Allows for the systematic analysis of the efficacy of immune cell therapy for solid cancer treatment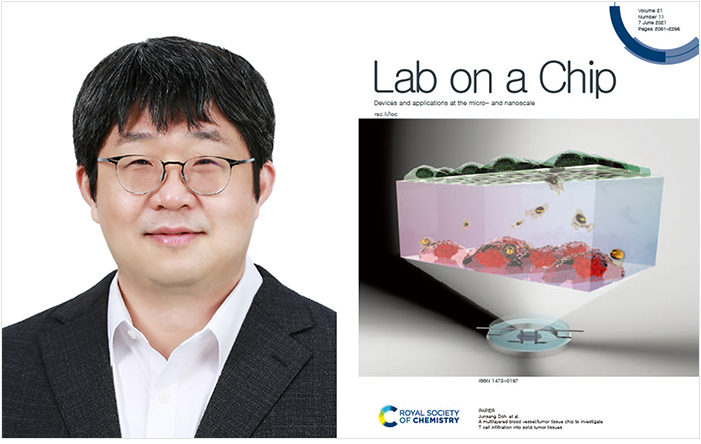 Professor Junsang Doh and the Research Paper Cover Image
Professor Junsang Doh of the Department of Materials Science and Engineering has developed a biochip technology that can accelerate the development of immune cell therapy. Competition regarding its development is currently fierce around the world as the treatment is expected to be the ultimate anti-cancer treatment, showing more than 50% of total tolerance in incurable blood cancer through its excellent anti-cancer efficacy.
Currently, global pharmaceutical companies such as Novartis, Gilead and BMS have launched one of the immunological cell treatments, CAR-T (chimeric antigen receptor-T) for the treatment of cancer and many companies in Korea, including Green Cross Lab Cell, CuroCell, and Vaxcell Bio, are in the process of developing T-cell or NK-cell-based immunotherapy.
Immune cell therapy has been a great success in treating some blood cancers, such as leukemia and lymphoma, but it is still known to be less effective in treating solid cancers such as lung cancer, colon cancer, and brain tumors. In order to develop an immune cell therapy applicable to solid cancer, the immune cell's ability to penetrate tumor tissue as well as the effectiveness of killing cancer cells is also important.
Immunocytes injected through the veins of cancer patients must exit the tumor blood vessels and pass through the tumor substrate (stroma) to contact and kill cancer cells, during which cancer cells secrete various substances to control the movement of immune cells.
In this research, Professor Junsang Doh's team developed a biochip that mimics the structure and function of the blood vessel-substrate of tumor tissue, allowing immune cells in the blood vessels to imitate the entire process they have to go through to kill solid cancer cells. The biochip is expected to accelerate the development of immune cell treatments by enabling a systematic analysis of the anticancer effects of immune cells in the development of immune cell treatments.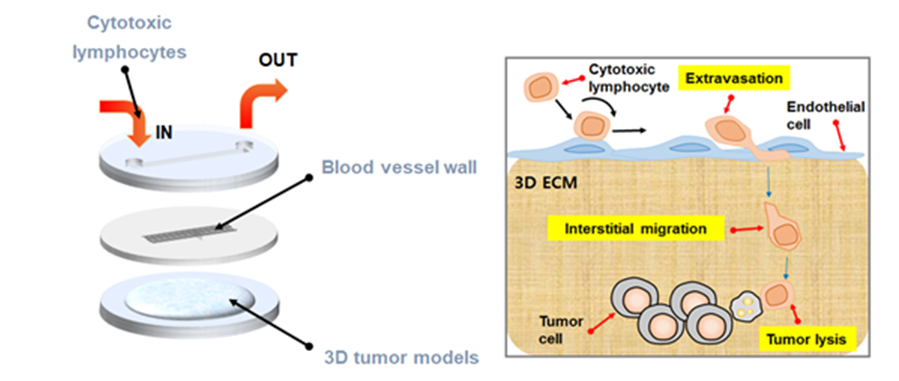 In recognition of its importance, the research was published as the cover paper of <Lab on a chip>, a renowned biochip-related academic journal and was supported by the National Research Foundation of Korea for midcareer researchers, the 3D printing life innovation convergence technology development by the Institute of Information & Communications Technology Planning & Evaluation and the Seoul National University Research Settlement Fund.
For further information, please contact Prof. Junsang Doh(jsdoh@snu.ac.kr).